Report: How to measure CX
In my research into a methodology for measuring product-market fit, I inadvertently discovered a technique that is incredibly useful for measuring how much value your brand/offering brings to your customer.
The Customer Value Indicator (CVI), identified in the report linked below, is a simple and accurate means of measuring how much value the combination of your brand, your products, and your services brings to your customers. It is based off a proposed metric for product-market fit, proposed by Sean Ellis in 2015. The report (provided below) produced shows that whilst the metric can be used to validate product-market fit of unbranded products, it is actually a better indicator of how much your customers value your collective brand, products, and services (labelled "CX").
The advantages of using the CVI are two-fold:
As a company that is investing in optimising its CX, you are able to measure the impact that your efforts are having on two key indicators of great CX: customer value and perceived differentiation;
As a company looking to identify the source of your competitive advantage, a low CVI or high CVI will help you understand how other elements of your offering, such as brand awareness, contribute to your sustainable competitive advantage.
How the CVI can help (in a nutshell)
tl;dr The CVI helps you understand how valuable your offering is to each customer type/segment/persona, how you can increase your value, and what is driving your competitive advantage.
READ THE FULL CVI REPORT, AVAILABLE HERE
How to measure your CVI
Part 1: Establish your benchmark
Ensure you know what you are testing, as the exact wording can change whether you are testing your brand, your product/offering, or all of the above. Generally, it is best to be testing your "branded offering", but you can also use this as a measure of the value of your brand (see the CVI Report Twitch case study for more on this)
Create a survey in your chosen survey platform: platforms with conditional logic are preferable (such as the paid version Typeform or SurveyMonkey);
Write the following question, tailored to your offering: "How would you feel if you could no longer use [branded offering]?". It is vital that you test your branded offering (to begin with). For example, if you are Apple, you should test, "How would you feel if you could no longer use Apple's products and services?". If you are British Airways, you should ask, "How would you feel if you could no longer fly with British Airways?"
The answer choices should read as follows: Very Disappointed; Somewhat Disappointed; Not Disappointed; N/A (I do not use [insert branded offering]);

At this stage, it is possible to simply leave it at this simple question and send it to your customers. If you have multiple types of customers (you may call them segments or personas), then you will want to create unique surveys for each type of customer. Once you have created a unique survey/collector for each customer type, send all existing customers (or recent customers if you are a product-based offering).
How to measure your benchmark
Your CVI score is the percentage of respondents who answered "Very Disappointed" to your question. To get the score, ensure you discount any respondents who answered "N/A" and only compare across the first three questions. Your CVI will look like this: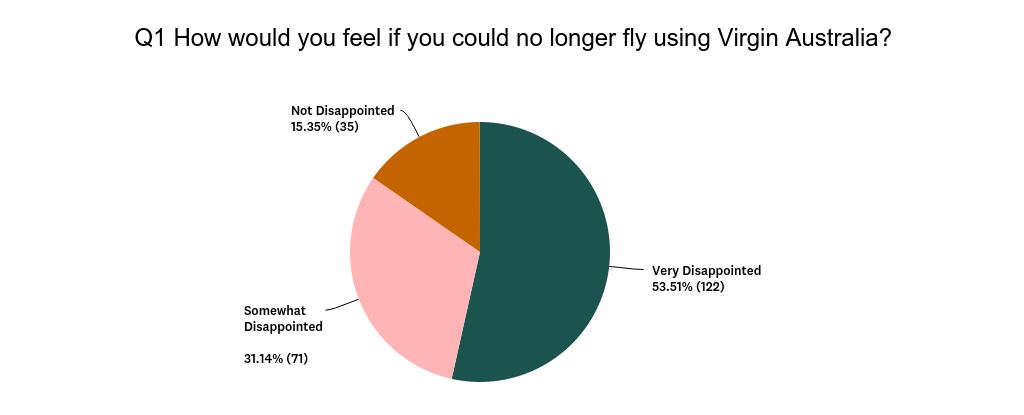 Going beyond the benchmark
Your CVI is a fantastic measure of how much value you are providing your customers, but it doesn't need to stop there. By means of follow-up questions, you can use your survey platform's conditional logic to dig deeper and ask your customers why they responded accordingly.
The method is simple: simply create a conditional response logic in your survey to link a unique question to any one of the three responses (your N/A responses should be linked to disqualification at this stage). Those questions are simply free-text fields asking "why do you love us?" or "what can we do to improve?", just as we would ask in an NPS survey:
Top and tail your CVI with workshops
As a metric, the CVI is a useful standalone tool, but if you are going so far as to measure it, then you should be creating a way of making action-points for improving your CVI at your next measurement point. Good questions to ask that will lead to action items include:
How can we use this exercise to increase customer value?
What areas will benefit from applying the insights we uncover to increase customer value?
How strong is our value proposition?
What is the source of our competitive advantage?
Where are our greatest opportunities to improve value?
How often are we measuring our CVI?
What does "success" look like when it comes to improving our CVI?
Written by Tom Uhlhorn, founder of Tiny CX
Back to Blog